Pipe Wrapping Products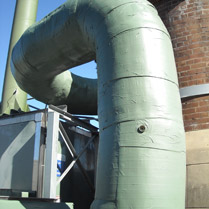 Waste pipe noise can be extremely intrusive more so in middle of the night. Pipe noise is created by water hitting the shell of the pipe creating air born noise as well as transferring vibration through the pipe wall and pipe clips to the structure pipe is attached to (wooden joists, brick wall or concrete slab).
The pipe lagging products below are examples of the solutions we could employ to meet your soundproofing needs. We are able to select the best-fit choices, not limited by a specific brand.