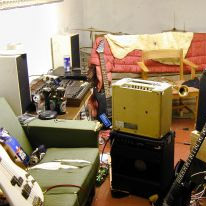 These days, there are so many people getting into music, because of the general popularity of things like YouTube where you can teach yourself music and be inspired by others.  Also the talent shows like X-Factor and The Voice are fuelling people's dreams of  stardom.  Added to this the amazing array of musical technology available at affordable prices, and it has never been a better time to get jamming and grooving.
Plenty of old rockers these days are reforming the bands from their youth for a bit of weekend fun. Other people are getting serious about their future music careers.  
The only problem is that our houses and offices were never designed for this.  Even with electronic drum kits and computer music, things can still get loud when you are monitoring yourself and especially when you start singing.  Add a real drum kit into the mix, and your neighbours are going to start wishing you would move to the country! 
Action Soundproofing has helped many people realise their musical dreams, by suppressing the noise spilling out of a rehearsal or recording room and allowing the freedom to jam to your heart's content.
With combination of viscoelastic membranes, noise barriers, sound absorbers and diffusers, and door seals we can help you create studio of professional look and quality in your home.
We successfully treat:
Transmission Noise;
Reverberation noise within the music room;
Noise penetrating doors.